It took only a few days of moderately warmer weather to stir our sleeping rattlesnakes. I haven't downloaded my temperature logger recently but it has been easy to notice that it's in the 50s instead of the 30s the past few mornings, while daytime highs have been in the high 60s.
And today, we found some rattlesnakes stirring. Until now, the body temps of all of the hibernating rattlesnakes have been in the single digits Celsius (less than 50F). Earlier today, ten of twelve telemetered rattlesnakes were in double digits despite a full thick overcast. Male 37 – still inaccessible on the bluff – produced a calculated body temperature of 21C (70F). (The bluff is always warmer because it is steep and faces south, so solar energy is more concentrated per unit of surface area.) Male 37 is clearly no longer deep underground.
Next was Male 46 at 16C (61F) and, sure enough, he was peering out from under the log where he spent the winter.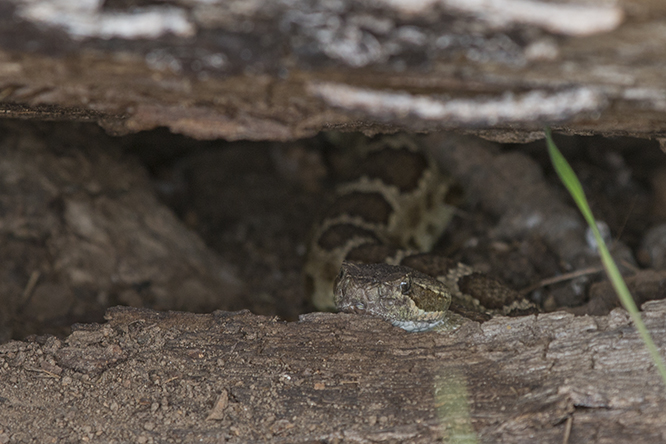 When we arrived at Female 41's radio signal, we found a rattlesnake laying out in the grass and assumed it was her. The rattle was not clearly visible at the time but later examination of photographs disclosed white/green paint in the rattle. Female 41 is white/blue and the rattlesnake we observed turned out to be Male 49, marked and released without a transmitter exactly two years ago today, on 10 March 2015! Female 41 was very close but out of sight.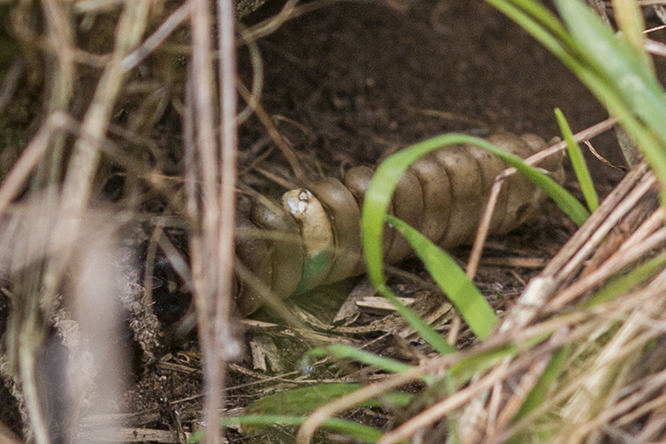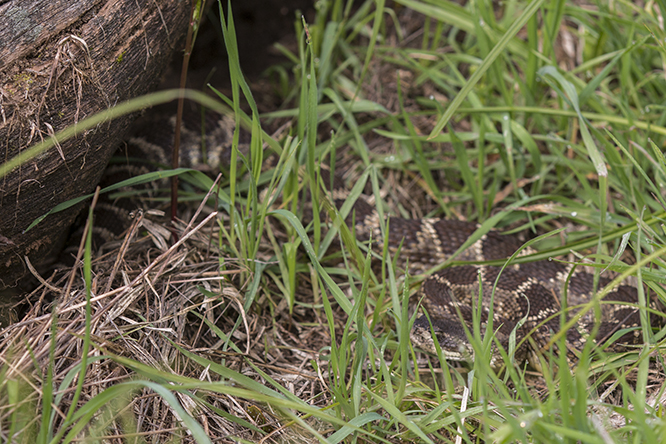 We also found Male 40 laying out in the same spot as last week (see the blog post on 6 March), plus we found a new animal laying in the grass next to another large log where two telemetered adults have been napping since last fall. He (or she) was captured and, while too small for a transmitter, will be measured, marked, and will donate a blood sample before being released as CROR81.
More news to follow!