Field studies of rattlesnakes indicate that they cease most movement when water stressed and remain in their established home ranges, rather than migrating into developed areas in search of water, despite frequent claims to the contrary.
In my last post, I mentioned witnessing Females 41 and 47 feeding, as well as finding new Female 53, who was very heavy and likely pregnant. Since then, I have come across Female 41 eating another vole, found another new female (#54) that is heavy and definitely pregnant, and come across a fat but unidentified rattlesnake in the refuge where Females 41 and 43 had babies last year. I could only see the face and a bit of a flank of the unidentified animal (photo below) so I couldn't even determine sex.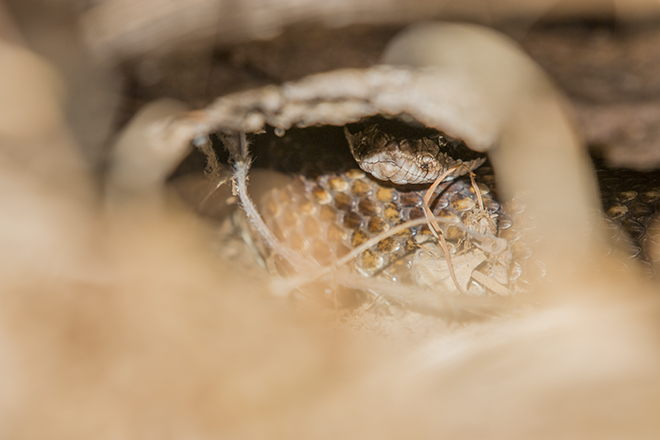 It could be a male that has just eaten a ground squirrel pup – but it is more likely another pregnant female. We now have five telemetered females (39, 41, 47, 53 and 54) and all are in great shape, with three either confirmed or likely pregnant and the others in good shape to reproduce although I have not yet had my hands on them this year to palpate for fetuses.
This brings up a timely point: This will obviously be a good year for rattlesnake reproduction in our area, despite being in the midst of an historic drought. Since the news media often quotes "experts" claiming drought "drives rattlesnakes out of the hills and into yards looking for water," this is a great opportunity to set the record straight about how drought affects rattlesnake movement.
We live in a Mediterranean climate, historically characterized by warm dry summers and cool wet winters. Even during years with "normal" precipitation, vast tracks of mountains, foothills and many valley areas have no surface water between late spring and the return of winter rains in November or December – yet they support healthy populations of rattlesnakes. Herbivores (insects, rodents, etc.) get most of their water from the plants they eat and rattlesnakes get water from eating the herbivores. The bodies of terrestrial vertebrates are usually composed of 65–75% water, so eating a 100 gram (3.5 ounce) rodent is like drinking about 70 grams (2.5 ounces) of water for a rattlesnake (plus the nutrients and energy gained). Make no mistake, rattlesnakes suck droplets from various surfaces, including their own skin, deposited by rain and dew (photo, below) and they will certainly drink from standing water when it's available. But especially during summer and fall, these other sources are not available and virtually all of the water a rattlesnake needs is obtained from its prey.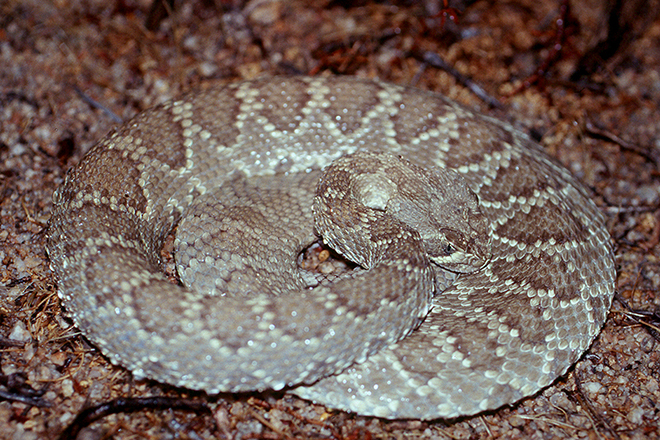 Rattlesnakes are models of low energy physiology. As ambush predators, they move comparatively little and rely largely on anaerobic metabolism. Their sedentary lifestyle combined with the corneal layer of their skin (full of water-blocking lipids) dramatically lowers the amount of water that passes into and out of their bodies – known as "water flux." Nonetheless, multiple studies have shown that the most significant mechanism for water loss in terrestrial snakes is evaporation, with about 75% being lost through the skin and the remainder via exhaled breath.
During my four-year field study (2001–2004) of Mohave Rattlesnakes in southern California, I was able to compare behavior, including average daily movement and reproductive effort, between the severe drought year 2002 and 2003–2004, when rainfall returned to average or above average. I found that average daily movement during 2002 was less than one third of 2003–2004 averages. And while I encountered dozens of courting pairs during the two non-drought years, I observed a male courting a female on only one occasion in 2002. Yet these rattlesnakes continued to eat at a rate indistinguishable from the non-drought years, based on scats deposited in holding containers and later analyzed. These snakes were reducing exposed surface area (and, therefore, evaporative water loss) by remaining coiled and immobile, covering much of their skin within their coils. They even buried their coils partially in loose soil at times, covering additional skin area. Remaining stationary eliminated their ability to find and court mates but, as sit-and-wait ambush predators, it allowed them to continue to hunt – and obtain the body water of their herbivorous prey. They also positioned themselves behind vegetation and ground contours in 2002 to avoid wind and sun, both of which increase evaporation rates. You can find more details in my MS thesis.
We have seen similar behavior in Northern Pacific Rattlesnakes in recent years at my El Dorado Hills study site, where the rattlesnakes remained tightly coiled and stationary in deep chaparral on north-facing slopes during particularly hot dry summer weather. At Effie Yeaw, all of the rattlesnakes caught by staff around the ponds during the past year, as well as the telemetered rattlesnakes I have found there, have been males found during the courtship season. The females have remained in the woods, away from water sources. While the snakes will drink when they find the ponds (or other water sources), that's not why the males are there… they're wandering around looking for females! And, yet, the females are now fat and pregnant.
Drought probably does not affect rattlesnake movement until it becomes locally severe, as it did at my Mohave Rattlesnake study site in 2002. When the snakes start to become water stressed, they don't set out into uncharted territory looking for surface water. Rather, they stop moving and hunker down where they can best reduce evaporative water loss while still striking any prey that wanders by. Currently, if the preserve at Effie Yeaw Nature Center is any indication, there is lots of annual plant growth and the vole and ground squirrel populations are thriving – and so are the rattlesnakes.
So when people find a rattlesnake in their yard during a drought, the most likely explanation is that it is a male looking for receptive females and the drought is not severe enough locally to stress the rattlesnakes. When they are truly water stressed, rattlesnakes move less – not more – than usual. Unlike most large mammals that have much higher metabolic and water flux rates and require standing water to drink, there is no evidence that rattlesnakes leave their established home ranges looking for water, despite the popular belief to the contrary. They do just the opposite.