Now is the perfect time for this discussion because the Effie Yeaw rattlesnakes have been shedding like crazy. Since the end of spring courtship about two months ago, the pregnant females have hunkered down to thermoregulate at optimum gestation temperature while the males and non-reproductive females have been hunting with far less attention to temperature control. All have been shedding over the past few weeks.
If you haven't yet read my description of the shedding process near the end of my last post, do so now; the following discussion will make much more sense with that background.
Because the corneal layer of the skin does not grow, shedding (or ecdysis) is a recurring process throughout a scaled reptile's life. Like other animals, baby snakes grow rapidly, so they must replace the corneal layer frequently to accommodate rapidly expanding bodies. Since shedding frequency is highly correlated with growth rate, juveniles usually shed several times per year. Growth rate and shedding frequency slows with size and age, with large adult rattlesnakes sometimes shedding less than once per year.
Rattle growth is a fundamental part of the shedding process for rattlesnakes. The rattle is made of keratin, the same stuff as the acellular matrix of the corneal skin layer – and your fingernails. Each time the snake generates a new corneal layer and prepares to shed the old one, it also produces a new rattle segment. Thus the newest segment is always at the base of the tail and contains live tissue – much like the base of your fingernail. And because each new segment is the width of the tail, young rapidly-growing rattlesnakes produce a tapered rattle (photo below).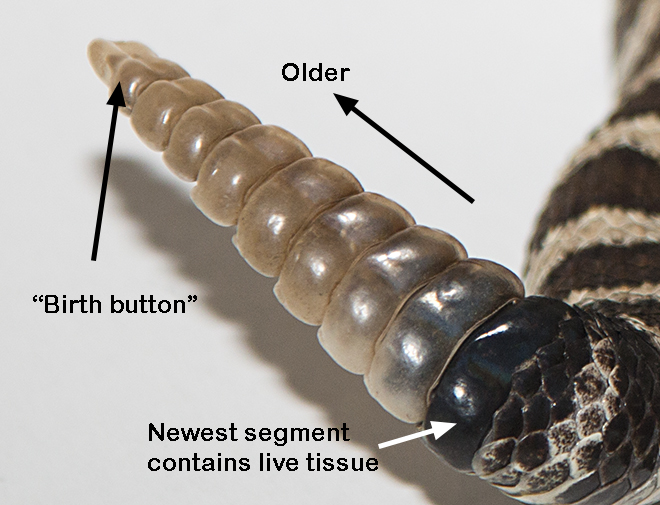 The rattle is made up of loose, hollow, interlocking segments. Except for the first segment (or "birth button"), each segment consists of three lobes, yet only one is visible. The two hidden lobes fit loosely inside the older adjacent segments (photo, below). There is nothing loose inside that makes noise, the rattlesnake's buzz comes from the loose segments vibrating together.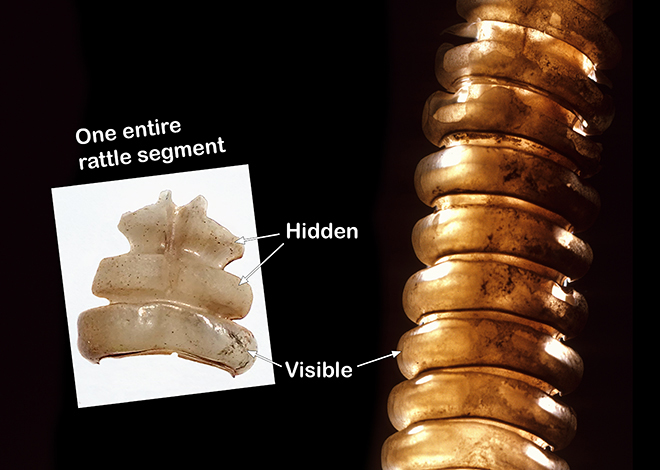 Rattlesnakes are born with a tiny hard cap on the end of the tail. I like to use the analogy of an eraser on a pencil – which is the approximate size of the newborn snake and the cap.  During the first ten days or so, the first rattle segment or "birth button" is produced, which is uncovered by the postpartum shed. This is the only time that a part of the rattle comes off with the shed "skin."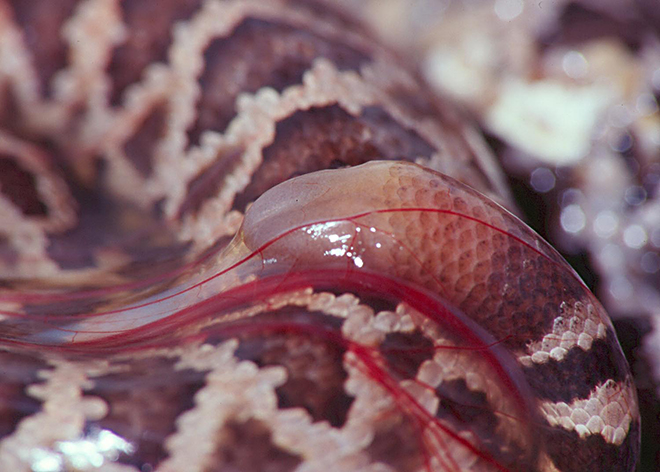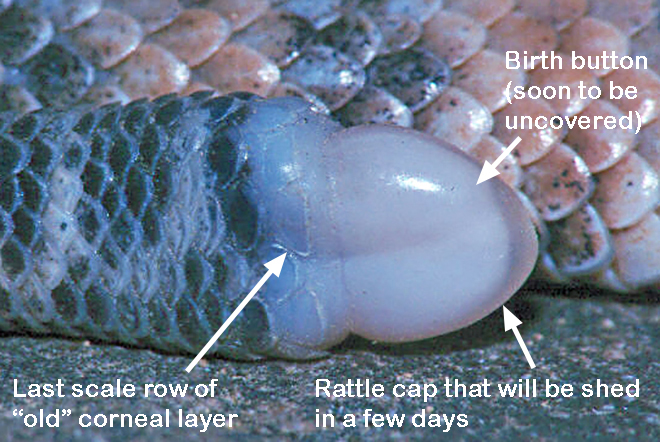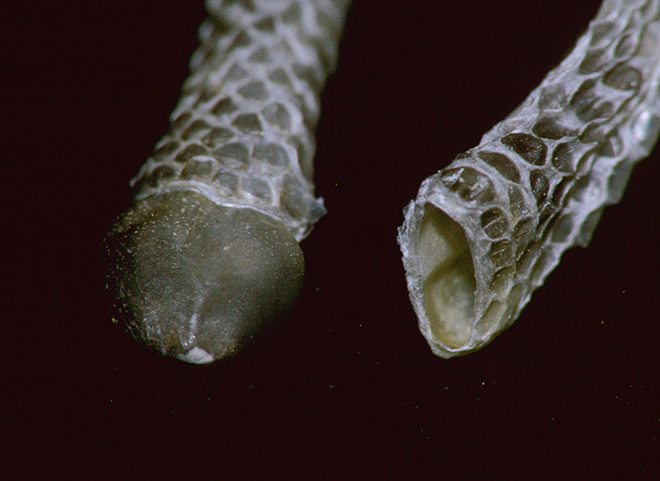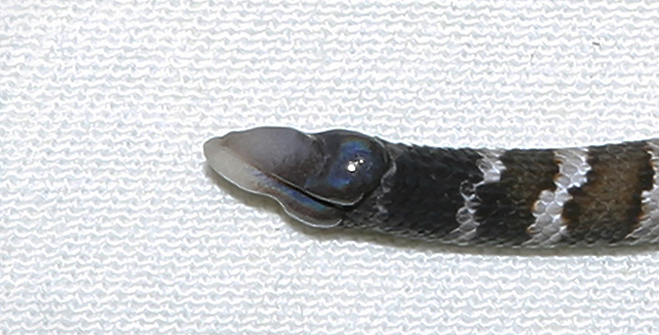 During every subsequent shed, the old corneal layer will simply be an open tube that slips over the rattle. When a shedding cycle begins, formation of the new rattle segment is usually noticeable before the eyes turn blue (photo, below).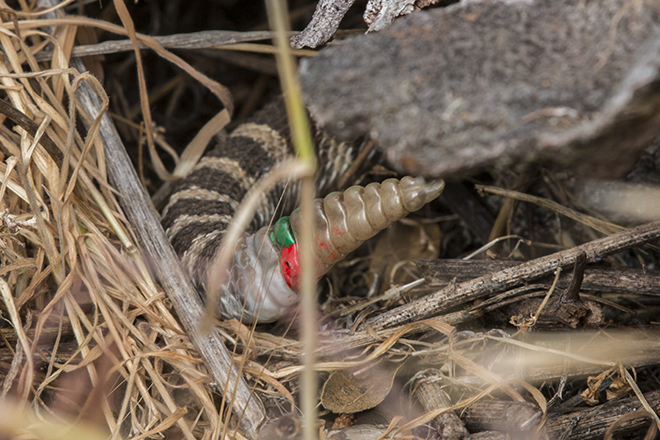 Injecting acrylic paint into the first hollow segment allows me to identify rattlesnakes visually, with each animal receiving a unique color combination. The paint also allows me to record how often they shed.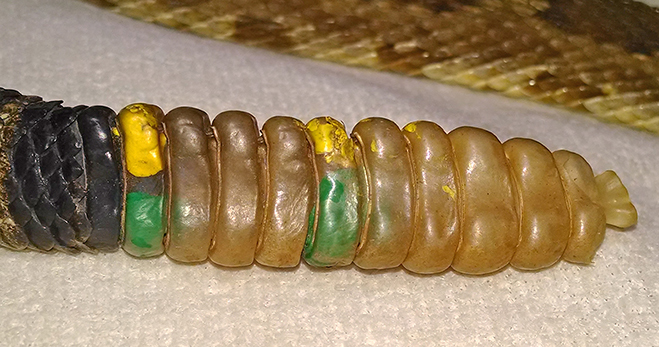 In Female 05 (above), note that her birth button and the next two or three segments are already missing. The location of her original paint tells us that she has shed four times in the 40 months since she was first marked. The slight taper at the end of her rattle provides a hint of her age: considering the number of segments I think are missing and that snakes grow much faster and shed more frequently when young, I estimate that I originally captured her in her third or fourth year, making her about seven years old in this photo. Once all of the tapered segments at the end are lost, we have no way of estimating how old she is from the rattle.
You can also see that the rattle segments produced by Fem 05 (photo, above) as a young rattlesnake are noticeably larger than the more recent thin segments. This happens in the middle of rattles, too, with some segments being wide and robust while others are thin. I think rattle segments are a bit like tree rings in that good conditions with lots of  food produce wider thicker segments. In the case of adult females like 05 above, it likely reflects the shift in resource allocation (more below) when she became sexually mature. It is worth mentioning that this snake had reproduced three years in a row when this photo was made (and she produced the four recent thin rattle segments) and her body condition was very poor after three consecutive litters.
In almost all rattlesnake species, adult males are larger than adult females. Yet the growth rate of baby males and females is indistinguishable until they reach sexual maturity. Once they start reproducing, however, female growth slows. We believe this happens because females start diverting most nutritional resources to the production of offspring, leaving much less available for their own growth. Males, on the other hand, are free to continue devoting their resources to increased body size – which is advantageous for fending off predators while searching for females and for battling other males for access to receptive females (click here for video of males fighting).
Finally, can we tell a snake's age from the rattle? The one sure thing is that each rattle segment does not represent one year. The addition of rattle segments is well correlated with growth rate which, in turn, depends on age and food intake. We can make a pretty good estimate of age from a complete unbroken rattle and even when a few segments are missing, so long as some significant taper remains at the end. But for older snakes with broken rattles having no taper, there is just no way to know how many segments are missing.
So how long can rattlesnakes live? Decades! I have personally kept some southern California species in captivity over twenty years. The Splash Education Center at Mather Field has a healthy Northern Pacific Rattlesnake that has been in captivity for a well-documented 32 years! But how long they survive in the wild is a much different question. Captive snakes do not have to contend with coyotes, hawks, owls, king snakes, temperature extremes, and all the other hazards of a natural existence – not to mention humans and their cars. While references like Robert Stebbins' Field Guide to Western Reptiles and Amphibians (2003; Houghton Mifflin Co.) list the maximum size of our northern California species as over five feet, the fact is that three-footers are now uncommon. Large rattlesnakes have become very rare all over the United States, with individuals approaching old record lengths almost never found. Of course, in some remote wilderness where people rarely visit (if there is such a place today!), maybe there are still a few very large wild rattlesnakes…