You may remember from my last post that pregnant Female 53 had made a surprising move of more than 220 yards near the end of August and was discovered, apparently by herself, in a small burrow at the edge of the river bottom. Interestingly, after monitoring her there for a week, she turned up back in the original refuge on 8 September. Although I have not been able to get a look at her with the BurrowCam, the burrow she was in for a week is empty and I have no reason to believe that she's not still pregnant.
Then, last Thursday (September 10), I found three significant developments when I visited this same birthing refuge occupied by expecting Females 39, 47 and 53. First, Female 39 was gone, with a distant weak radio signal. Second, I finally got a direct look at some babies – either three of them or the same one three times, crawling around inside the refuge (photo below)! Interestingly, the one(s) I saw had shed; they were brightly marked and their little two-lobed rattle buttons were uncovered. That, of course, means that they were around 10–14 days old and ready to leave. And, third, one of the visible adults was jerking and chin-rubbing on Female 47 – sure signs of a courting male (click here for a courtship video). This guy had no paint in his rattle, so he's new but he was inaccessible inside the shelter. But the fall portion of the courtship season has definitely begun.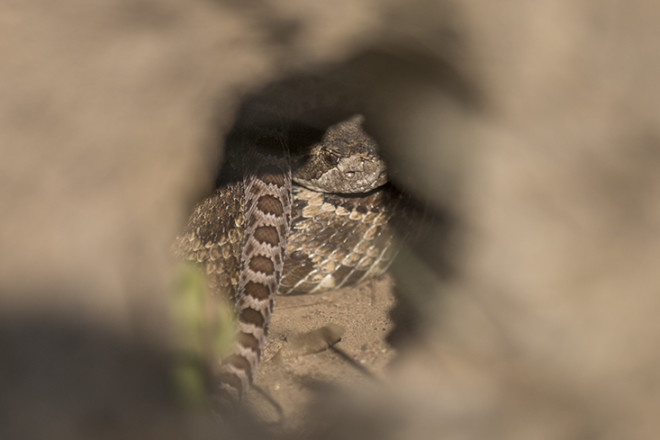 Female 39 was already postpartum, so her departure was not surprising. But her offspring should have left (or be leaving) at the same time. The post-shed kid(s) I saw could have been her's or Female 47's. When I tracked down Female 39's radio signal, she was in the blackberry thicket on the other side of San Lorenzo Way, laying in diffuse sunlight and sporting a very recent food bulge (just behind the U-shaped bend in her neck in the photo, below). Interestingly, this annually-reproducing female had her babies in the same refuge last year and, when she departed, she immediately made the same long move to the same spot in the same berry thicket – on 15 September 2014. Apparently this is the best place to find a good meal when you finally get the kids out of the house!
As of the morning of 14 September, all females except 53 had left their gestation shelters. I came across Female 47 crawling in the grass, so I maneuvered in front of her and shot some video as she crawled toward me. Although I remained motionless, I think she detected me as she got within two or three feet, because she started carrying a slight "S" bend in her neck, which I interpret as a defensive precaution in case she needed to strike and bite (when not feeling threatened, they usually extend the neck when crawling, as in the first half of the video). I was accidentally kneeling almost on top of a ground squirrel burrow and she dove into it when she found it. Click here to see the 28-second video.
A short time later, I found that Female 54 had also departed from her gestation refuge but had made it only a few dozen meters. Her partly eaten carcass was laying in the edge of a trail just a few feet from where an adult turkey had been killed and eaten a couple of weeks ago. Her blood had not yet coagulated and the exposed tissue was still moist and glistening. In recent weeks, I've frequently seen one or two of the now almost grown coyote pups in this area and there has been coyote scat everywhere. I have no doubt that one of them got her.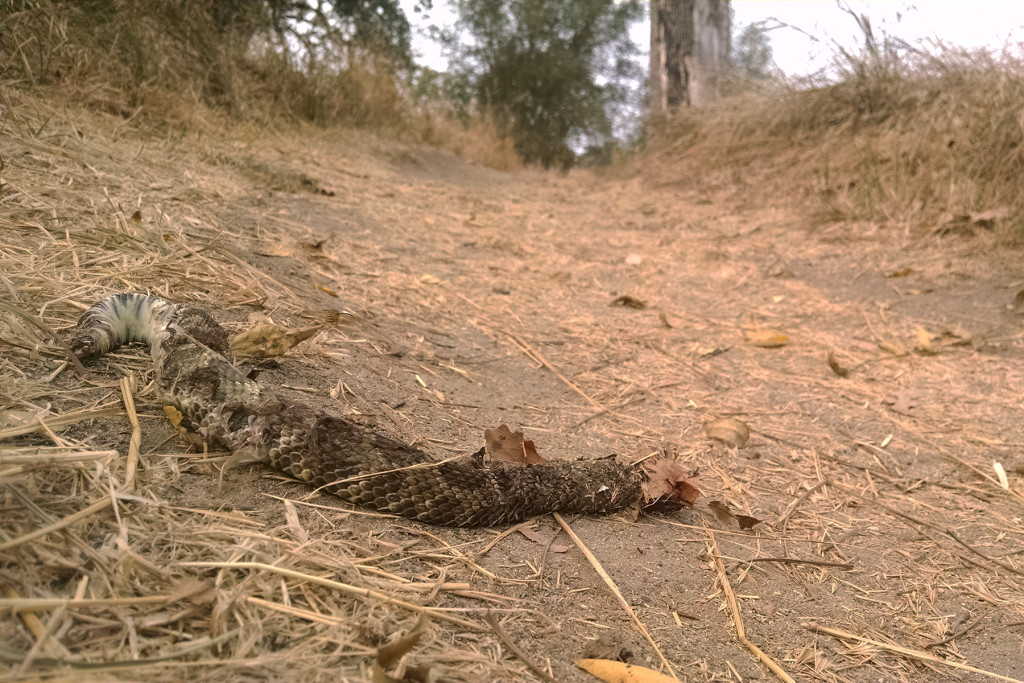 Then, at the shelter used for the past couple of months by Females 39, 47 and 53 – and still occupied by 53, I came across a freshly shed youngster a couple of feet outside of his birth refuge.
Assuming that Female 53 delivers a brood soon, our six monitored females will probably have contributed nearly 50 baby rattlesnakes to Effie Yeaw's Nature Preserve (average litter size is 8). But remember that, on average over time in a stable population, a female rattlesnake (or any other species) only produces a replacement for herself and a mate in her lifetime that survive to reproduce themselves. Otherwise, the population increases or decreases.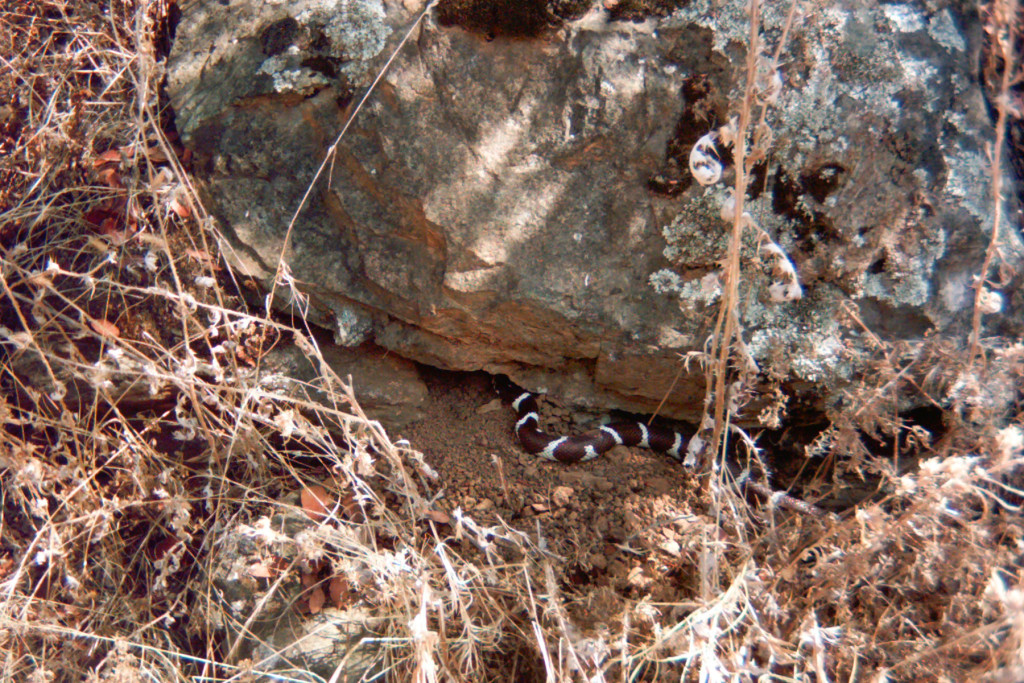 The vast majority of offspring never live long enough to pass on their genes. Of course, there are cycles between predator and prey species. When predator numbers are up, they soon knock the prey population down, which eventually results in a reduction of predators as food becomes scarce. Then, as predator numbers decline, the prey population begins to increase again… and the saga continues. Remember what I've said before: it's a violent world out there and Nature is a cruel mother; most wild creatures' lives end in the jaws of another!