Male 37
Our wayward male shed on the morning of 7 October, five days after being recaptured. His faulty transmitter was surgically replaced that afternoon and he was released the following morning.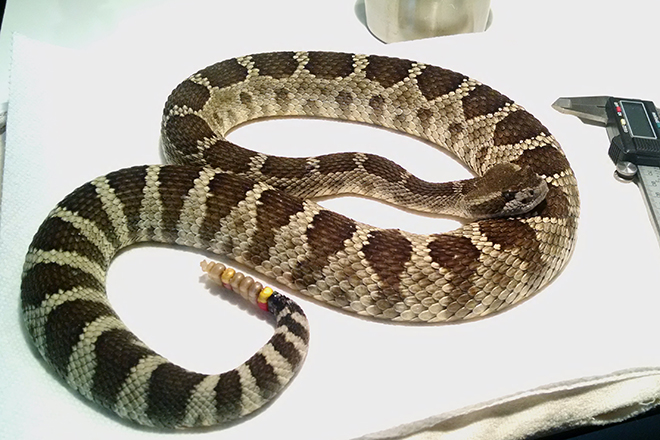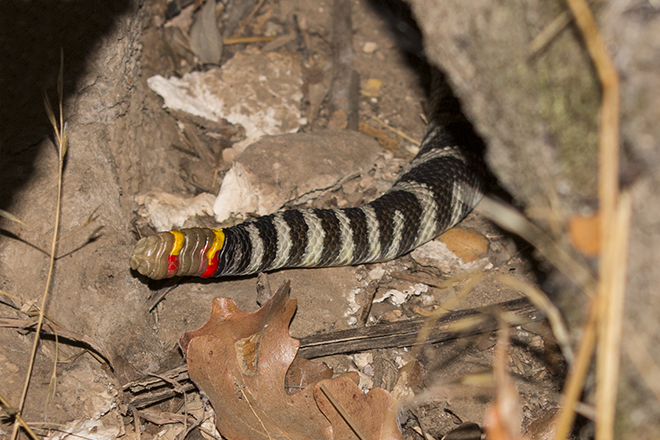 I took advantage of the necessity to allow Male 37 to shed before his surgery to collect some useful data. His pre-shed body mass was 693.5 g. By weighing him again and subtracting his post-shed mass of 668.4 g, we find that he lost 25.1 g (0.9 oz.), which was 3.6% of his body mass. Then, by drying his shed "skin" on a hot plate to drive off ambient moisture and subtracting that mass (5.1 g) from 25.1g, we can calculate that 80% of the mass he lost was water. Although these rattlesnakes are unaffected by California's drought so far (more details here and here), that will eventually change and such data will be invaluable for calculating water loss and gain over time (water "flux") and predicting when the snakes will become water stressed.
More Mortality
Another healthy postpartum female, CROR 47, was killed on the morning of 21 September. I may have been premature in assuming that a coyote killed Female 54 on 14 September (details). Female 47 was also very fresh when I found her, killed in the early morning in the meadow by something that did not eat her.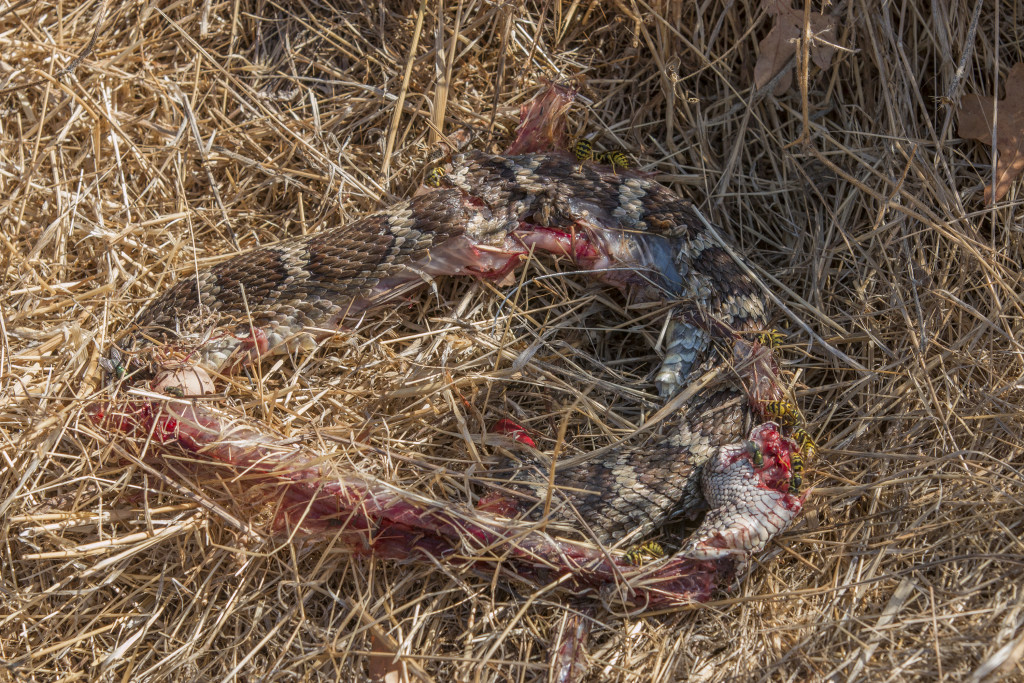 It was obvious that Female 47 had been pulled apart, with her body in two large pieces and internal organs and strips of skin pulled away. But she was all there. Maybe most interesting was the condition of her head: The top of her head was intact and unmarked but her lower jaw was mostly gone and the roof of her mouth was mangled, especially where the fangs had been (caution: graphic close-up).
In reconsidering the death of Female 54 a week before, I assumed that her missing head and neck had been eaten but it is entirely possible that I just didn't find them. And I rationalized that a coyote dropped the snake as it probably fled (unseen) from me. But I see coyotes around the meadow frequently and, while they give people a wide birth, they are not panicked by our presence. If I interrupted a coyote with Female 54, why wouldn't it have carried the rattlesnake away to finish the meal?
So what would encounter both rattlesnakes in the meadow early in the morning and pull them apart before leaving them uneaten? I have had coyotes kill Mohave rattlesnakes in southern California in the past but they eat the entire snake and chew the transmitters; these transmitters were undamaged. And what would remove the jaw and mangle the inside of the mouth?
My best idea is turkeys. Interestingly, I have found nothing in the scientific literature about wild turkeys killing adult rattlesnakes, although there are several anecdotal accounts in books, including Laurence Klauber's Rattlesnakes (1972, Univ. California Press) of turkeys mobbing adult rattlers. Inquiries of my rattlesnake researcher colleagues has produced one witnessed account of a wild turkey killing and eating a two-foot timber rattlesnake (Crotalus horridus) in Minnesota. And there is a video on YouTube of two turkeys apparently killing what appears to be a large gopher snake (Pituophis) on a golf course.
If anyone reading this has first-hand information about wild turkeys interacting with rattlesnakes, I would love to hear about it.
2015 Season almost over?
Well, it's the last week in October and our eight telemetered rattlesnakes appear to be mostly settled into their winter shelters, despite relatively warm weather. Last year, we still had three telemetered rattlesnakes roaming around well into November (see my "Rattlesnake Update" from 26 November 2014).
This year, one of our telemetered animals has been stationary since 16 September and others have stopped moving since 6 October, 12 October (2 animals), and potentially three more in just the past couple of days. Most interesting of all is that five of them are in the same shelters they used last year – and a sixth may be on his way. This is a departure from behavior observed during my field work in El Dorado County, where the rattlesnakes did not return to the same locations winter-after-winter, although some returned to previously used sites after spending a winter or two in other locations.
This year at Effie Yeaw, our skinny geriatric Male 40 went immobile on 16 September under the same log he shared with Males 35 and 38 and Female 39 last winter. Then Male 35 and Female 39 joined him, arriving on 6 October and 12 October, respectively – although their radio signals indicate that they are not together under the large log. Male 38 is still on the move, even visiting the residents along Edgehill Lane three days ago (26 October). I was unable to gain access to his location due to the necessary residents apparently being away and, when I returned yesterday, I found that he had returned to the hillside within the nature preserve. Male 37 spent a few days in the same area on Edgehill Lane in August 2014 and also returned to the preserve before I could gain access to him. These are the only two times (in two full seasons) that telemetered animals have entered the residential area on the bluff. When this occurs, I try to contact the property owners and would remove the snake, if that's the property owner's desire and the snake is accessible. In both cases, however, the rattlesnakes  returned to the preserve before I could make contact with the necessary residents. But back to Male 38, he was on the hillside yesterday morning and may be headed back to last year's log with the others.
Male 37 went directly to the hillside after I released him with a new transmitter on 8 October and I have not detected a change in the location of his radio signal since 12 October – which sounds like the same place he spent last winter (again, refer to my "Rattlesnake Update" from 26 November 2014). Once I'm sure he's down for the winter, I'll make the treacherous climb and verify his exact location.
Female 41 arrived on 20 October at the log where she spent last winter. She moved a few meters away over a couple of days but has been back for the past three days, so she may also be done for this season. As far as I could determine last winter, she was alone. Male 46 and Female 53, neither of which were telemetered last winter (i.e., I don't know where they spent last winter), are very close together under another large log and have been there for at least three days.
It is interesting to note that the rattlesnakes that are already in their winter shelters are not basking, preferring to remain out of sight with body temperatures mostly in the 60–65F range. Earlier in the activity season, when cool nights are followed by warm morning sun, the rattlesnakes come out and warm up by exposing some or all of their skin area, depending on ambient temperature and the intensity of the solar radiation. But in ectotherms (animals that get their body heat from the environment) like rattlesnakes, body temperature varies with the environment and both metabolic rate and water flux increase with higher body temperature, burning more stored energy and using more water. So, on the verge of four or five months of hibernation, the rattlesnakes are likely programmed by evolution to cool off and slow their metabolism, thereby conserving energy and water for use in the spring.
Once I'm sure the snakes are done moving for the year, I'll summarize the season's findings in the context of last year's data and our original questions and study goals.