After a couple of false starts during warm periods in mid and late February, a new series of cool storms kept the Effie Yeaw Nature Center rattlesnakes immobile through the first half of March. On days with a little sunshine, both telemetered and other rattlesnakes were frequently found basking at the entrance to their shelters but they did not venture away from them. Natural selection tends to remove animals from the gene pool that wander too early and get caught in a late-season freeze. As if to demonstrate that it was cool temperature and not the rain that was keeping them inactive, several rattlesnakes were found lying out in the rain on days when the temperature was in the high 60s, despite the clouds.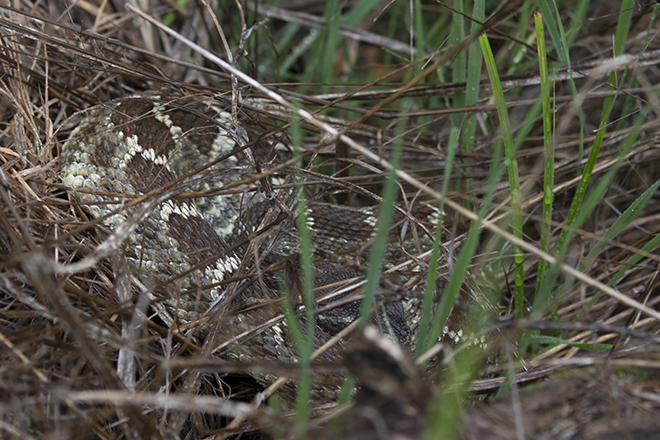 While the rattlesnakes continued to bask on sunny days, none of the telemetered animals moved between 29 February and 17 March. Then today, I discovered that 7 of the 9 telemetered rattlesnakes had left their shelters and moved significant distances in the past two days.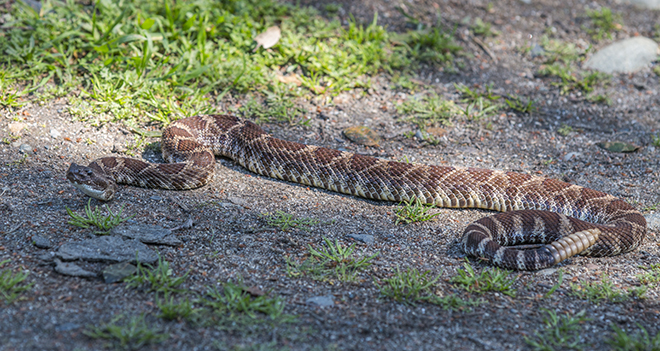 I haven't seen courtship yet. Female 41 and Male 49 hung out together for a month (16 February through 15 March) but they were only rarely touching one another and were usually coiled a couple of feet apart with no courtship observed. She is now hunting several dozen yards away and Male 49, without a transmitter, has disappeared.
The important message, however, is that rattlesnakes are on the move and encounters between people and rattlesnakes will increase immediately. Unfortunately, I have already seen photos of a rattlesnake bite from a few days ago in the foothills. Watching carefully where you put your hands and unprotected feet and leaving snakes alone when you encounter them would prevent almost all bites. If you must walk in vegetation or rocks where you cannot be sure what you're stepping on, wear high-top shoes or boots that cover your feet and ankles. Of course, boots that cover some of your calf are better but most accidental snakebites (where the person is not intentionally interacting with the snake) are to the ankle and below.
Remember, you can't save all the cute animals, eat all the tasty ones, kill all the ones that scare you, and have a functional ecosystem, too!