Despite persistent cool mornings and alternating sunny and cloudy days, nine of eleven telemetered rattlesnakes have left their winter shelters and the remaining two have been basking regularly and will undoubtedly be on the move soon. We have also been finding plenty of new rattlesnakes basking and now have 27 animals processed and marked with colored paint in the rattles, in addition to the eleven with radios.
As I have already described, Female 41 was one of the first to leave her hibernation site and was soon joined by Male 49, a snake marked last season but not telemetered. Male 49 and Female 41 remained in close proximity at the same location from 16 February until 20 March and, although they were occasionally coiled in contact with one another, I never saw the male courting her. Male 49 followed when Female 41 moved more than 50 meters between 20 and 24 March but there has still been no witnessed courtship. However, the grass is very thick at their new location, making her hard to see and him impossible to spot if he's not with her (and I don't want to step on him… they're very fragile!).
On 22 March, I came across Female 55, another animal processed last year and released without a transmitter, basking alone at the edge of a large log. But when I returned on 24 March, she had company: an unmarked (no paint in the rattle) male on top of her, jerking, chin-rubbing, and tongue-flicking – typical courtship behavior (you can view a 2015 clip of Female 41 with another male here).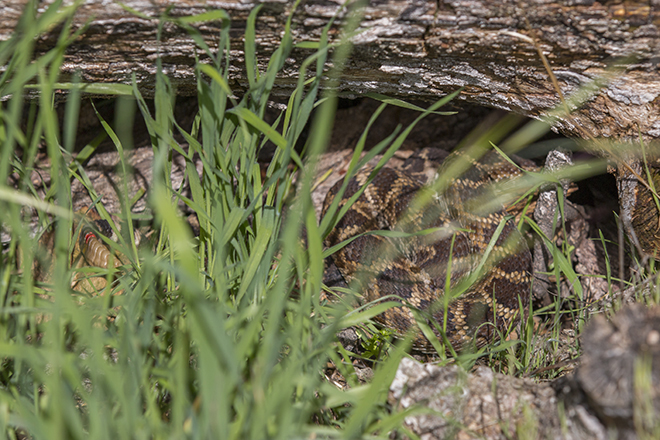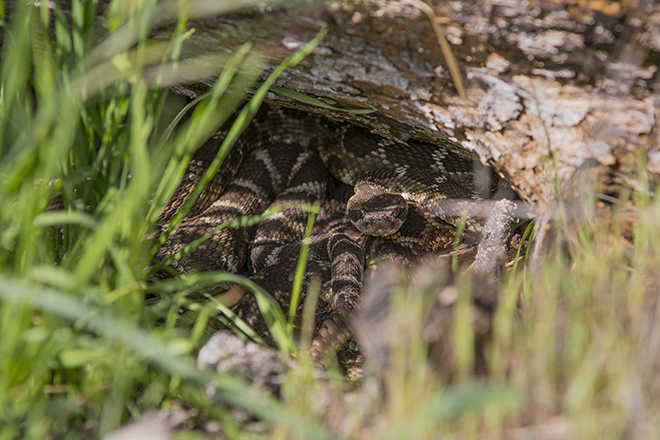 We can expect the females to hunt for the next two-to-three months, after which pregnant females will retreat to their favorite gestation shelters to thermoregulate until their kids are born around the first of September. Non-pregnant females will continue to hunt through the summer. Males will spend most of their time looking for receptive females until late May/early June, after which they, too, will hunt full-time for voles and ground squirrel pups until courtship resumes in late summer.