How well do rattlesnakes tolerate surgically-implanted transmitters?
As I have discussed before, there is a long (20+ years) history of telemetry studies of rattlesnakes in which individual animals tolerate the transmitters for years, enduring periodic surgeries to replace the radios. The animals thrive, repeatedly producing offspring and growing at the same rate as rattlesnakes without transmitters.
I bring this up because of a phone call last weekend from the landowner where I conducted my El Dorado County field study. He had just encountered the first Northern Pacific Rattlesnake I ever marked and telemetered, still identifiable by the yellow-over-yellow paint remaining in his rattle. He is now an exceptionally large male with twelve rattle segments – but in 2009, he was a young animal with a tapered unbroken rattle. He eventually endured four annual surgeries to implant and replace transmitters, followed by a fifth surgery in 2013 to remove his last radio.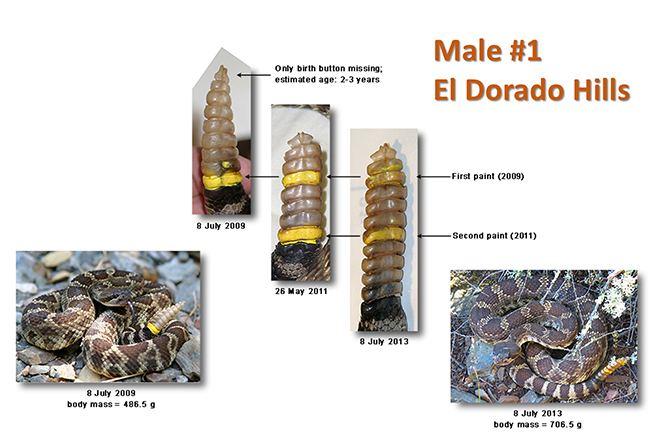 Male 01 being sighted alive and healthy is just more evidence that the surgical protocol and other study methods used by me and many of my rattlesnake-researcher colleagues is well tolerated by the animals we seek to learn more about.
Rattlesnake intelligence?
Despite my frequent admonition that we often tend to give rattlesnakes and similar animals too much credit for cognitive thought, friends at San Diego State University recently published some compelling evidence that rattlesnakes may learn from experience and apply those lessons to anticipate and mitigate problems during future similar circumstances. Bree Putman and Rulon Clark have spent years studying rattlesnake predation tactics by setting up video cameras on hunting rattlesnakes and recording their predatory encounters with small mammals. (This works because rattlesnakes are ambush hunters that sit still for long periods of time, waiting for prey to wander by.)
While reviewing 2000 hours of video, Bree and Rulon discovered two examples of rattlesnakes using their heads and necks to move foliage out of the way that might otherwise interfere with a strike when prey wanders close (click here for video). The animals involved were Northern Pacific Rattlesnakes – the same species as we have in the Sacramento area. Similar behavior has been reported a couple of times in the past, once involving a Prairie Rattlesnake (Crotalus viridis) and once involving an Arizona Blacktail Rattlesnake (Crotalus molossus); both these incidents were witnessed by observers but not recorded.
Thus, evidence continues to accumulate that rattlesnakes are likely more social and maybe more intelligent than previously thought – although many habits are undoubtedly genetically programmed by natural selection. The new report by Putman and Clark is contained in the current issue of The Southwestern Naturalist (volume 60, number 4; December 2015).
For more interesting videos of natural predatory behavior by rattlesnakes, go to Rulon's YouTube page.