Well, we are entering that time of the season when we can expect to find baby rattlesnakes any day now. Of course, the youngsters will not be roaming around where they might encounter people for about 10-14 days after birth…so we usually don't encounter them on trails and in yards until early September.
But our six telemetered females are displaying a variety of behaviors indicating that all may not be about to produce babies. Six weeks ago I reported that Females 39, 41, and 53 were all pregnant and in the gestation shelters they have used repeatedly to thermoregulate before giving birth in previous years. Furthermore, I could feel six fetuses in Female 80's belly when I implanted her transmitter in June.
Since that mid-July report, Females 39 and 53 have behaved predictably for expecting moms, remaining in their gestation shelter, and both appear to be about to produce kids. In the photos below, note the abdominal girth of these females, with scales pulled widely apart.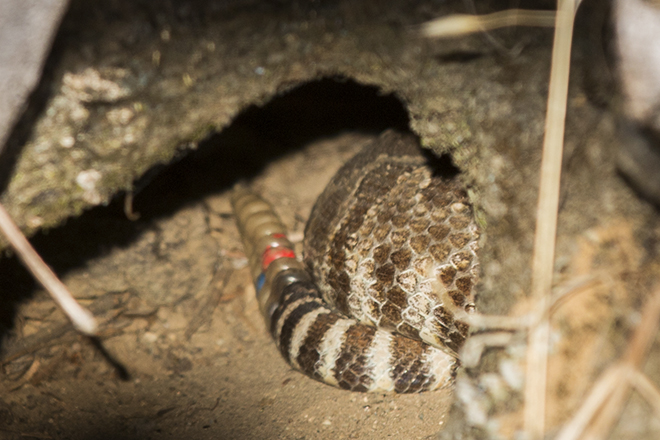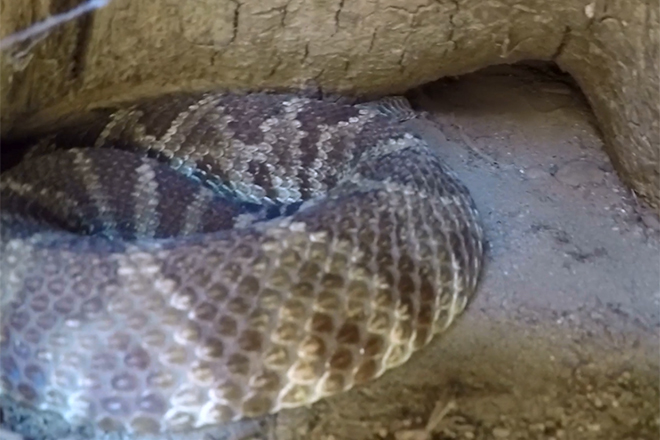 This will be the third consecutive year that Female 39 has produced offspring and the second for Female 53, so far as we know. We were not monitoring them previously. Between the first of July and yesterday, 23 August, the average body temps for Females 39 and 53 have been 28C (82F) and 29C (84F), respectively.
Six weeks ago, Female 41 had just returned to the gestation shelter she used the previous two years, which led me to believe she was likely pregnant again. However, after staying only three weeks, she left and has been spending her days mostly out of sight in various ground squirrel burrows during August. I have not been able to get a good look at her in recent weeks but her behavior and average body temperature of 26C (79F) suggest that she may not reproduce this year. Although Female 41 produced kids in both 2014 and 2015, I want to remind readers that skipping a year or two between broods is far more common than annual reproduction for temperate-latitude pitvipers.
Our remaining three telemetered females are new to the study this year, so I have no data from previous years. Female 66 has behaved quite normally for a non-reproductive year: hunting continuously throughout the spring and summer. Her July-August average body temp has been 22C (72F).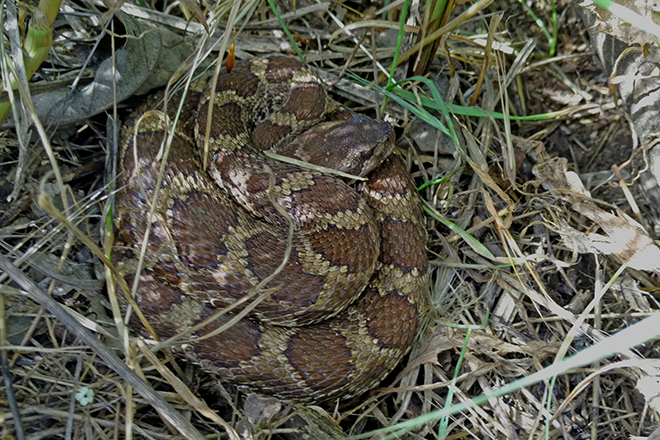 Female 75, however, appears ready to produce babies, although she has been moving back and forth frequently between two ground squirrel burrows 17 meters (56 feet) apart. Her average body temperature during July and August has been 27C (81F).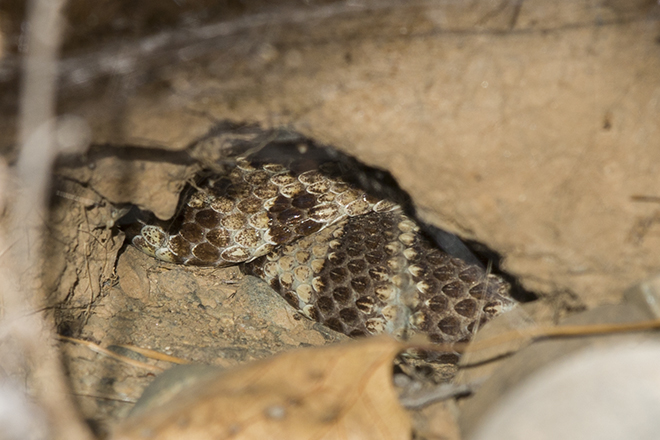 Finally, there is Female 80. When I captured her and implanted her transmitter in June, I could clearly feel six fetuses lined up in her abdomen. Shortly after I released her at her capture site near the base of the bluff, she climbed up the hillside and has remained near the top ever since. On three occasions, I have climbed that steep, loose, and treacherous slope but have failed to locate her. Her radio signal seems to emanate from thick ornamental ivy growing down from a residential backyard under fig and valley oak trees. She is also just above an underground wasp nest. Just to be clear, I am far more comfortable with rattlesnakes than a nest of wasps – especially where I cannot easily run away! Since I have no previous data from her, she could be in her usual gestation shelter. However, her July-August body temperatures are not consistent with a gestating female, with an average of 23C (73F). I'm not sure how this is going to play out…
Just for comparison, the seven telemetered males have been moving around a lot, hunting and occasionally hanging out with the pregnant girls for a day or two at a time. Their average July-August body temps range from 17C (63F) to 26C (79F), with the average between the boys of 23C (73F). Note how closely these data match non-reproductive Female 66's average body temp of 22C (72F) during the same period.
That's it for now. Next post will almost certainly be (cute!?!?) baby pics!