We have kids!
Just a quick post to let you know that as of last Saturday, 3 September, Females 39, 53 and 75 were all still visibly pregnant.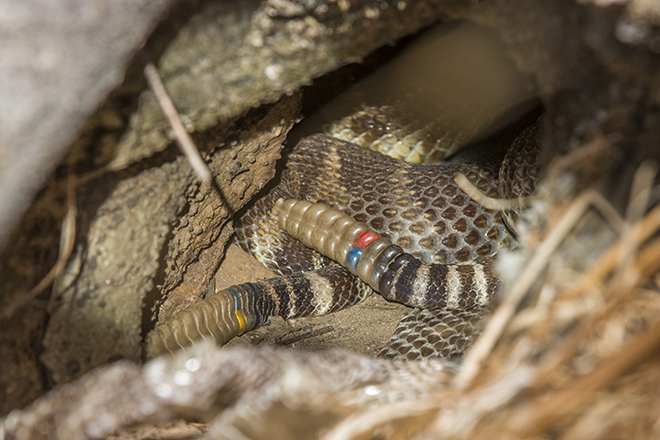 But yesterday afternoon, 6 September, a newborn baby was coiled in the hollow log where 39 and 53 had been on Saturday. I could not see the adults well enough to tell which one had given birth. There were undoubtedly other kids that were not visible. Since the neonates start a shed (ecdysis) cycle almost immediately after birth, which turns their eyes bluish-white, this one's clear eyes indicate he is not very old.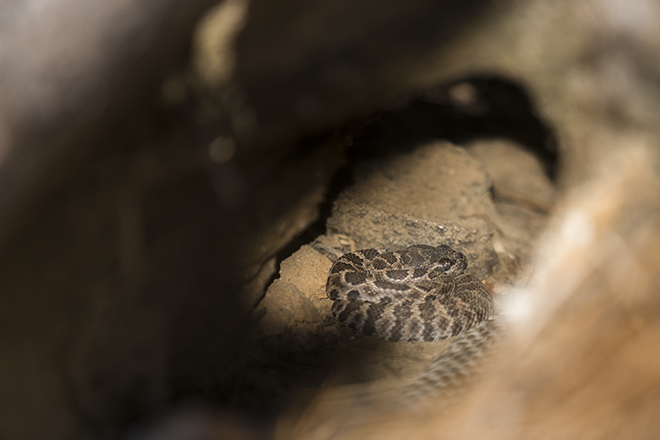 As of Saturday, I could not see neonates in the burrow with Female 75.
Since my last post, I also came across the first Fall courtship. Early on 29 August, I came across an unmarked male courting Female 66, who is not pregnant this year and has been hunting all summer. A couple hours later, the apparently happy pair were copulating! Remember, these rattlesnakes have a bimodal courtship season: they court in the Spring, lay low during the hot months, and resume courtship in late Summer/Fall.