With little fanfare over the past two months, the twelve telemetered rattlesnakes have disappeared underground one-by-one and ceased surface activity for the season.
Male 71 was the first to drop out of sight and has been stationary since 7 September. This big guy was first captured and implanted with a transmitter last spring, so we don't know where he spent past winters. But he took shelter this fall under the same large log used by Males 35 and 40 and Female 39 in the past.
He was followed into winter inactivity by Male 62 on 19 September, Male 37 on 5 October, Male 75 on 7 October, Female 39 on 11 October, Female 41 on 12 October, Female 66 on 17 October, Male 35 and Female 53 on 21 October, and Male 36 about 29 October.
Rather than implant a third transmitter (they must be replaced annually) in our old underweight Male 40 last April, I removed his second transmitter and released him without a radio. During 2014 and 2015, he was the last to leave his winter shelter and the first to return, he moved far less than other telemetered rattlesnakes of either sex, and I have never found him courting a female. He is clearly in his twilight years (I'd love to know how old he is!) and he was not producing useful behavioral data for my study. I bring this up now because he spent the past two winters under the same log with Male 35 and Female 39, as well as other non-telemetered rattlesnakes, and he is back this fall. We have sighted him at this log on 3 and 21 October, as well as yesterday, 12 November.
On 12 October, Male 46 settled into the same winter refuge used by 35, 39, 40, and 71. But between 29 October and 9 November, he moved 70 meters (77 yards) to a spot under the log he used last year. And, for the second winter in a row, he is sharing this site with Female 53. We also spotted non-telemetered Female 55 under this log on 21 October.
After spending most of the summer in a steep inaccessible area high on the bluff (and probably producing a litter of babies), Female 80 showed up at the bottom of the hill on 12 October and stayed in a small area through the end of the month (photo below). But by 9 November, her radio signal indicated she was back near the top of the bluff and will presumably spend the winter there.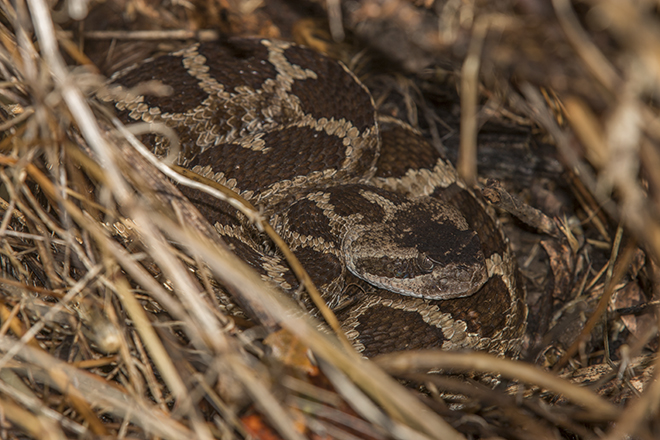 Although Male 36 was the second rattlesnake we implanted with a radio in the spring of 2014, you may recall that his first transmitter failed a few months later and he remained missing for a year and a half. As a result, we have no idea where this big impressive guy spent the past two winters. This year, he was one of the last active telemetered rattlesnakes, apparently going underground around 29 October. When he disappeared, however, his radio signal became sporadic and I couldn't locate him for days at a time. We now know where he is but his signal does not propagate very far. A large abandoned iron water pipe passes through this spot and Male 36 is likely inside that pipe. And we know from experience with telemetered snakes in the metal storm drain that runs under the visitor center that such a pipe dramatically reduces the transmitter's signal strength.
So, as it stands now, telemetered Males 35, 40 and 71, and Female 39, are together under the same log, along with a few other marked and unmarked rattlesnakes without radios. This will be the third consecutive winter under this log for 35, 39 and 40. Telemetered Male 46 and Female 53 are spending their second straight winter together under another log, likely along with Female 55 (sighted 21 October) and other non-telemetered rattlesnakes. Female 41 is in a void under a large living oak tree for the third year in a row – by herself, so far as I can tell. Male 75 and Female 66, along with several observed unmarked rattlesnakes, are together under yet another large log. Both 75 and 66 are new this year, so I have no previous winter data for them. Male 62 is apparently by himself but I have no prior winter location for him, either.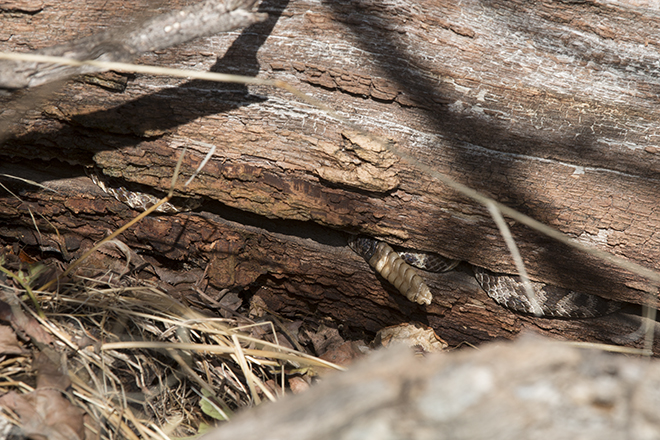 It is interesting to note that we see very little basking on warm mornings in the fall, unlike spring emergence when the snakes warm themselves in the morning sun for days before finally venturing away from their winter shelters. Remember that the metabolic rate in ectotherms, who rely on their environment for body heat, slows when they are cool. And slow metabolism consumes less stored energy and water. So, in the fall, on the verge of several months of inactivity, it makes sense to simply disappear underground, cool down, and conserve stored resources for use in the spring.
In summary, all of the rattlesnakes for which we have previous winter locations have returned to the same hibernacula each year… three winters in a row for three animals and two consecutive winters for three others. Some individuals seem to spend the winter by themselves but others favor locations with certain other rattlesnakes.
Once again, we are left to contemplate why, when there are many dozens of apparently similar old logs in the Effie Yeaw Nature Preserve, do these animals return to and congregate at a tiny number of them. This would not be surprising at higher elevation (or latitude) where winters are severe and suitable shelters to escape freezing temperatures are scarce. But that is not the case at about 20 m (66 feet) above sea level along the American River Parkway where winter temperatures are mild.
As I have speculated before, it would not surprise me to learn that we are watching social behavior of mostly related animals in family groups. Sociality among family members has been shown with genetic evidence in Timber Rattlesnakes (Crotalus horridus) in the Appalachian Mountains and will undoubtedly be discovered in other species. Each of the 80 Effie Yeaw rattlesnakes we have processed has donated a blood sample and the DNA will one day shed light on the validity of this hypothesis at Effie Yeaw!