The first of our four pregnant rattlesnakes has given birth since last Thursday (between September 8 and 12).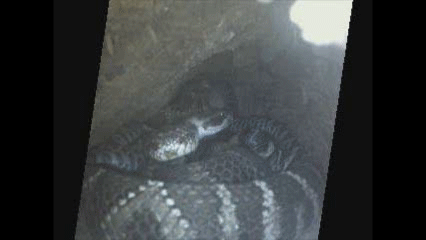 The animated GIF file above shows Female 54 in the foreground inside a hollow log and still pregnant (note the scales pulled apart on her abdomen) but with babies crawling over her on both sides. Female 39 is in the background and no longer pregnant. Since these are the only two females I have seen gestating in this hollow log this year, I believe the kids belong to Female 39. The video was recorded with our BurrowCam, actually a Ridgid Tools inspection camera that can be inserted up to three feet into burrows, logs and other narrow chambers.
As you know if you have been reading this blog for very long, mom and babies stay together for a week or a little longer, until the kids shed the corneal layer of their skin for the first time. After that, they go their separate ways to forage for food before hibernation. Thus, if my telemetered females are in sync with the larger population, baby rattlesnakes should begin appearing on the trails around the fourth week in September.
This is Female 39's third brood in four years. Each time she has reproduced since I have been monitoring her, she has made a beeline to the same spot in the blackberry thicket on the other side of San Lorenzo Way as soon as the kids leave home. Apparently fall rodent hunting is very good there! We'll see if she stays true to form this season.
More baby news to come!