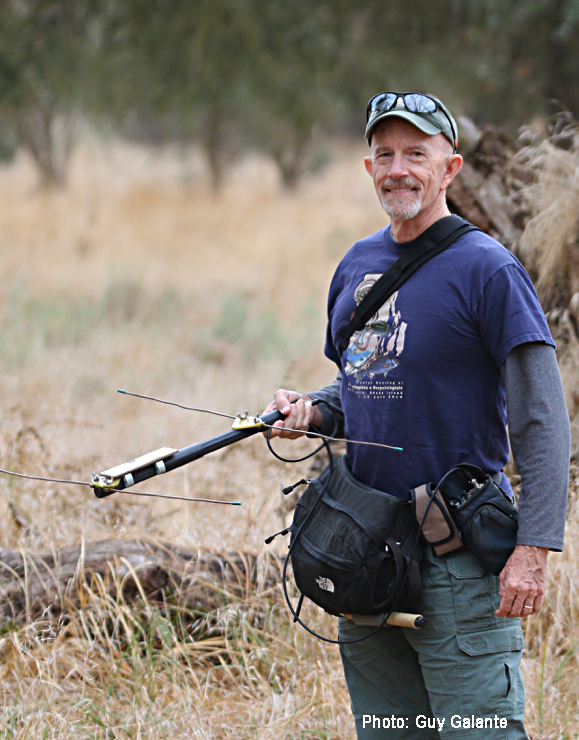 Although I spent much of my adult life as a Southern California law enforcement administrator, I have been keenly interested in creatures others unreasonably fear for as long as I can remember, majoring in biology right out of high school. Despite my 32-year detour through law enforcement, I became a recognized authority on rattlesnakes and their bites long ago and have spoken to hundreds of audiences throughout the United States and Canada over the past 40+ years.
From 2001 through 2004, I used radiotelemetry to study the behavior of wild Mohave Rattlesnakes, a species well known for its highly toxic venom yet about which little was known of its natural history. This study produced several scientific publications and was prominently featured in Animal Planet's "Venom ER" television series. I have collaborated on multiple research projects studying snakebite first aid and treatment at Loma Linda University, authored or co-authored many papers for peer-reviewed scientific and medical journals, as well as for non-technical publications, and am co-editor of The Biology of Rattlesnakes, a 600-page peer-reviewed compilation of rattlesnake research by 90 authors (2008, Loma Linda University Press). I have taught the envenomation portion of paramedic programs at both Riverside Community College and Loma Linda University and now peer-review manuscripts on envenomations and other animal-related injuries, as well as herpetology-related topics. I recently authored the 44-page species account for the Mohave Rattlesnake in Rattlesnakes of Arizona (2016, Eco Publishing), a new peer-reviewed reference volume on the rich diversity of rattlesnakes in The Grand Canyon State.
After leaving law enforcement and moving to Sacramento in 2004, I completed a Master of Science degree in Ecology, Evolution and Conservation and conducted radiotelemetry studies of Northern Pacific Rattlesnakes in El Dorado County and at Effie Yeaw Nature Center in Carmichael, as well as collaborating with other researchers on venom studies of Mohave Rattlesnakes. I served on a national panel updating treatment guidelines for pitviper bites (Kanaan et al. 2015. Wilderness Medical Society practice guidelines for the treatment of pitviper envenomations in the United States and Canada. Wilderness and Environmental Medicine. 26:472–487), co-authored the chapter on North American venomous reptile bites for the seventh edition of Auerbach's Wilderness Medicine (2017, Elsevier Mosby) and authored the chapter on the effect of radio telemetry on growth and body condition in Mohave rattlesnakes in The Biology of Rattlesnakes II (2017, Eco Publishing).
At the end of 2017, I permanently relocated to southern Arizona. Here in the beautiful Sonoran Desert, the variation in venom components between populations of Mohave Rattlesnakes is greatest. In particular, I am interested in the transition zones where rattlesnakes have both neurotoxic phospholipase A2 and tissue-destroying metalloproteinase in their venom. Throughout the vast majority of their distribution, the rattlesnakes' venom contains one or the other but not both toxins. It seems certain that venom components evolve to be most effective against local prey species and the combined venom profile does not seem to spread beyond the narrow transition zones. Why? It's an intriguing question that probably has to do with diet and/or foraging strategy – which I intend to investigate!
My studies are generously supported by an appointment as Adjunct Research Associate in the Biology Department at San Diego State University.