Rattlesnake love, that is!
I've been getting lots of questions after last night's (17 April) KCRA News interview with a local "rattlesnake hunter" who makes his living keeping us all safe from rattlers. If you have been reading my blog, you know there is nothing new to be alarmed about. The last few hot days have not brought out the rattlesnakes. Indeed, general emergence from their winter dens occurred more than a month ago. Male rattlesnakes continue to be busy looking for and trying to mate with as many females as they can while the females hunt for mice, rats, and other prey. As sit-and-wait ambush predators, the females don't move much and thus are seldom encountered by people. But the males have been and will continue to constantly search for females until late May or June, in the process turning up in yards and on trails and other places where they encounter people.
Once again, most bites can be avoided by watching where you put your unprotected hands and feet and leaving rattlesnakes alone when you encounter them.
We have been encountering numerous pairs of rattlesnakes in the Effie Yeaw Nature Preserve over the last few weeks. Here are brief video clips of a couple of examples: First, our telemetered Male 62 (blue/white paint in rattle), entwined with an unmarked female. These snakes were not moving during my brief visit but the males often accompany the females for many days but cannot keep courting them continuously (click here for video). You can see why in the video of Male 37 actively courting Female 41… it takes a lot of energy! (click here).
On 1 April, several hours after I videoed Male 37 courting Female 41, I returned and just missed a fight between two males over Female 41. As I approached, I briefly saw both males, with heads and necks high off the ground, twisted around one another. But one quickly fled, either from me or he had had enough of Male 37…who is a big healthy male rattlesnake! In any event, Male 37 was all excited and remained raised off the ground for a minute or more, guarding his girl (see photo below).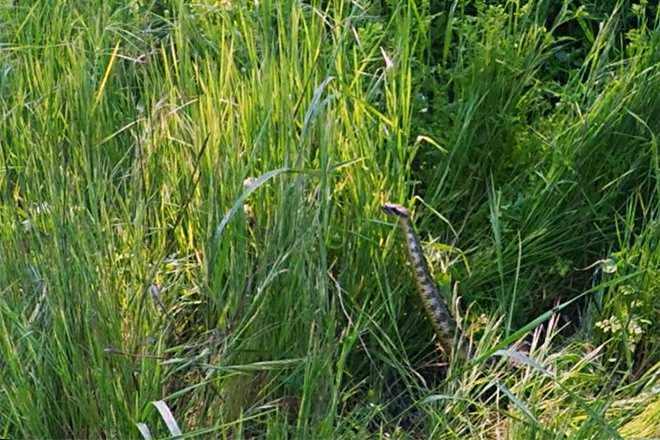 A video made a few years ago of two males fighting on the concrete in front of the Effie Yeaw Visitor Center doors is on the Nature Center website (or click here to see it).